22/11/16  - We are proud and delighted to announce that thanks to everyone's support and votes The Shed is through to the Finals of the Aviva Community Fund - to win funding to install an accessible lift!
With over 5 million votes cast in the competition, that's no mean feat.  Thank you to all our wonderful supporters for voting and spreading the word far and wide! 
We now have to provide additional information to the panel of judges to help persuade them to choose us as worthy of the funding we need for the lift.  800 projects will be funded through this scheme and we are now one step closer to being one of them. 
The results will be announced on 10th January. 
#voteshedlift  #avivacommunityfund 
The Broadstairs Town Shed is a Town Team project, for older people. The Shed has been up and running over a year now and has expanded into a larger site, The Big Shed on the edge of town, to accommodate more members, having outgrown original Little Shed in Pierremont Park.  
After lots of work to make this new building fit for purpose we are fundraising to install a lift - something we can't knock up ourselves out of bits of old wood!
We have a chance to win £15,000 from the Aviva Community Fund, please vote for us here - everyone gets ten votes in this fantastic scheme. Read More
---
Great coverage of our opening from ITV Meridian - watch it here
Wednesday, 22nd June saw our new, much larger home open.
6 months of dedication, hard work and the donation of many, many hours and fantastic carpentry, plastering, painting skills have converted an unloved warehouse space into our all singing, all dancing new workshop space and offices. More than 100 people came to see our fabulous new space. Lots of old friends keen to get working on all the new lathes and workbenches.
And, of course, there was cake, and lots of it.
Our heartfelt Thanks to everyone that has supported our journey, local businesses who have supported us with great community spirit, but especially the Amazing Willow Winston, our fabulous landlady, benefactor and No. 1 fan. Go to Gallery
---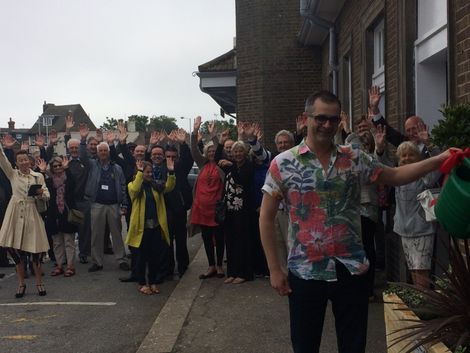 Planters hand made the The Shed have now been installed and lovingly planted up at Broadstairs Station.
At a ceremony on 28th May, dozens of local residents, sponsors and Shedders came to see their handiwork now all in place and beautiful. 
Each of the planters was sponsored by a local business, individual or special interest group.
The newly-formed volunteer 'Station Crew' from Town Team will maintain the planters. If you are interested in sponsoring Phase 2 of the greening' of our lovely station please contact denise@broadstairstownteam.org.uk for further details.
---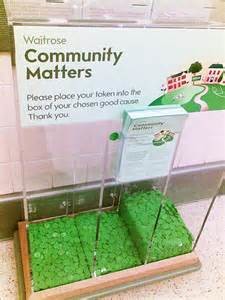 Please VOTE for us (again!) as part of the Waitrose Green Token Scheme at the Ramsgate Store. The more tokens we get the larger our share in a £1000 prize! 
Voting opens on 1st of May for the whole of May.
Thanks again for your support
---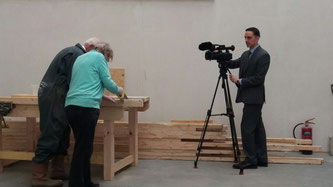 Fab time at the big shed the last couple of weeks - loads done, including a visit from ITV Meridian to do a piece for the regional news.
Watch the piece on our videos page. 
We'll be in the big shed until further notice as we're itching to get it finished.
If you'd like to find out more please call Claire on 07597 349290
---
Easter is imminent everyone.
We hope you'll come down to the Little Shed to see what we do, and also what lovely things everyone has made for sale to support the project.
Our new, larger building desperately needs a new roof, (and we cannot do that ourselves although we'd like to..) and so we'll be showcasing lots of wooden goodies for you to buy to help us with our mammoth fundraising efforts.
We're next to Pierremont Hall in Pierremont  Park, Broadstairs.
We'll be open from 10-4.
See you then.

---
We'd love to welcome even more people to our new, Big Shed, including wheelchair users and those existing and potential new members who have a bit of gip going up and down stairs.
Our workshops will be on the ground floor, for all to access, but where's a Shed without a cuppa to talk about the days activities, new skills learned and have a laugh?
Our kitchen and hanging out area is going to be on the first floor, and we'd much rather everyone was allowed to access it, and do what Sheds do best - help create new friendships and learn stuff.
If you, a friend of relation, (or perhaps even a business you know!!) would like us to do just that - we have today( 4th March) launched a Crowdfunder appeal to help us raise the funds for the lift.
We've designed some lovely ways of saying HUGE Thank You's to all our pledgers and sponsors.
See whether one feels right for you. If you do not have a Shed near you, we can be your shed family - no matter how far away you are.
All money pledged will go directly into the Lift fund
Thanks in anticipation everyone.
http://www.crowdfunder.co.uk/broadstairs-town-shed?tk=2d98302639610b8855fe36fc0b358f37e7bfed5c
---
---
On Thursday the 21st January 2016, we were the proud winners of a Thanet Gazette's Heart of the Community Award. It was a great evening celebrating what makes Thanet such a great place to be - our volunteers!
The Shed has won a years worth of editorial support from the Gazette, and we couldn't have done it without you and your votes, thanks!
We're looking forward to working with the Gazette team over the next 12 months. We could not have won the award without the public vote, so a huge Thank You, and we're so glad our community loves the Shed as much as we do.
See more pictures from the night here
---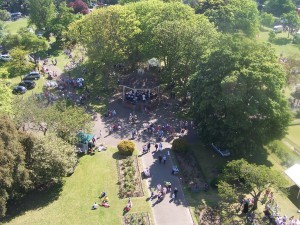 We love Ellington Park (we won the People's Millions at the same time!) and the incredibly dedicated volunteers who work to keep making it better and better. 
They have been selected by Tesco to receive funding for a trim trail in the park - how much depends on how many votes they get. So please go into your local Tesco store and vote - they can get up to £12,000! Voting closes on 6th March. 
The funds comes from the 5p bag charges - what a great way to use it!
Good Luck Ellington Park!
The Shedders are now working towards getting our second, additional site, The Big Shed, up and running. 
The popularity of what we're now calling The Little Shed, in Pierremont Park, means we now have so many members we have to have more space and this additional site will allow us to involve more people and introduce new activities as well.  There's lots to do and as you know we love a challenge!  
Today (5th Jan 2015) Our wonderful friends and stalwart supporters at OFP Timber Framed Homes 
have very kindly donated and delivered a HUGE amount of timber and trusses/joists so we can start the flooring, building work benches and walls etc!
We are so lucky and very, VERY grateful indeed to Alastair Naraway and his team and we wanted to say a public THANK YOU.
We'll be posting updates on the work in progress at The Big Shed on our Facebook page
Now the hard work really starts. Want to get involved? Please get in touch. 
---
---
Tuesday 29th December 11-3

Wednesday 30th December 10-3
Back as normal from Tuesday 5th January 2016
Wishing you all a very Merry Christmas and a Happy New Year!
---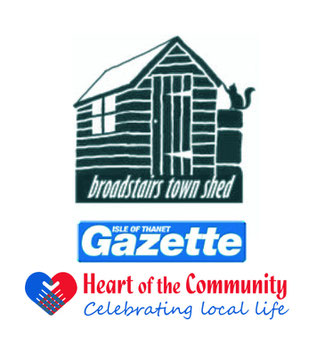 The Broadstairs Town Shed has a chance to win the Thanet Gazette Reader's Heart of the Community Award. Please support us to win much needed funding and also get invaluable coverage in the paper throughout 2016 - for our journey and fund-raising campaign towards a new, much needed second site - The Big Shed.

The Shed particularly supports older men in our community, who are susceptible to loneliness and isolation. 
The Shed is a place where members can go to do woodwork and other activities in a friendly and supportive environment. It has proven to be very popular since opening after the community helped us secure £50,000 funding from the People's Millions back in 2013. Thank you for supporting us to open what we are now calling the Little Shed in Pierremont Park if you were involved with that campaign. We now need to take on a new and bigger space, which we will call Big Shed, in order to fulfill the high level of need for everything that the Shed offers, hence the Big Shed expansion project! 
If you support The Shed and our aims please complete the voting form printed in the Gazette on 27th November and 4th December - then either either drop the slip in to the Shed, or send to the return address on the coupon, before 20th December.
OR 
Text :  'KN HEART 1010  & Your Name, Address and postcode' to 64343
(Texts costs £1 each plus your network message rate.)
Thank you very much if you can support us to win this Award, it will make a world of difference to all the Shedders - a chance to win much needed funding and tell the story of The Broadstairs Town Shed as it grows throughout next year. 
---
Come and see us at the 'Christmas In Broadstairs' event run by The Chamber Of Commerce in Pierremont Park.
The Shed will be open, offering wonderful hand-made wooden items for sale - come and buy some  to give as Christmas gifts to your loved ones from us - and help support the Shed. 
 
5th December from 11:30am to 4:30pm,
At The Broadstairs Town Shed - right next to Pierremont Hall in the park.
---
A marvellous turnout for our first sausage sizzle!
Great to see so many shedders willing to risk Bill's cooking! (no offence Bill all done to perfection!)
Thanks to everyone who worked hard to make it such a fun afternoon, and a special thanks to Brogdales, Hazell's, Crusties, The Old Bake House and the Co-op for helping with the food and drinks. 
---
---
Come and see us at Upton School Craft Fair on Saturday 13th June from 10:00 - 4:00.
We are supporting the fundraising for Upton swimming pool. Proceeds from sales go to support the Shed. 
Upton School
Edge End Road
Broadstairs
CT10 2AH
---
We're so pleased to be able to share with you all two lovely films that a great, local film Production Co. - Modus Films - have made about the Shed.
They show the story of the Worldwide shed movement, why they are so important, and then our own journey to build a Shed in Broadstairs. You'll also see some of the great things we have been doing and what our amazing volunteer Shedheads have done to make the project such a success.
We're proud of our achievements so far and have lots of plans for the future. Space is our biggest challenge as so many people want to join, and that is a key focus for us this year.
Hope you enjoy watching them - and please feel free to share and spread the word!
---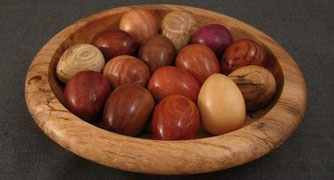 We're going to be opening our doors again on 4th April, selling lovely handmade wooden items for the garden and kitchen. 
All proceeds will go towards funding the Shed in 2015.
You can also pop along to the Spring Food Fair which is happening in Pierremont Park over the Easter weekend.
---
We are very proud to have been chosen by the students of the Supported Learning Faculty as their project of the year this year. As part of their work towards the Youth Social Action Fund the students have been working hard to raise money to buy us more tablets for our computer classes and some footballs for our walking football.
Last Thursday we spent a great day with the students, some showed us how to use the tablets, others made a delicious cream tea and then in the afternoon another couple of groups came to the shed and made bird boxes. 
It was a really enjoyable and interesting day for everyone!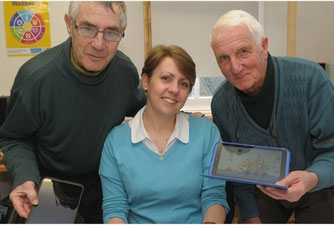 Hurrah! Our computer classes have started.
We're taking bookings for classes starting in April so please get in touch if you or anyone you know is interested.
---
Research shows that being part of a supportive community and keeping active promotes happier and longer life. It's that simple. There is now a wealth of evidence that Mens Sheds, where they exist, are making a very positive difference in the lives of those who get involved.
The Shed movement started in Australia and now there are over 1000 there, with further Sheds in over 20 countries, including almost 100 in the UK ,
Mike Jenn, Chair of the UK Men's Shed movement says:
"Joining a Shed can sustain a man's health in later life by adding purpose and creating friendships.
"We share good equipment, learn from each other, and chat while pursuing hobbies, working on community projects and making things to support the Shed."

So what are you waiting for - we'd love you to get in touch!